Working with files
Understanding how to work with files and folders is an important part of using your computer. Once you understand how files and folders work, you'll use them all the time. In this lesson, we'll show you the absolute basics of working with files, including how to open files and move your files into folders.
What is a file?
There are many different types of files you can use. For example, Microsoft Word documents, digital photos, digital music, and digital videos are all types of files. You might even think of a file as a digital version of a real-world thing you can interact with on your computer. When you use different applications, you'll often be viewing, creating, or editing files.
Files are usually represented by an icon. In the image below, you can see a few different types of files below the Recycle Bin on the desktop.
What is a folder?
Windows uses folders to help you organize files. You can put files inside a folder, just like you would put documents inside a real folder. In the image below, you can see some folders on the desktop.

File Explorer
You can view and organize files and folders using a built-in application known as File Explorer (called Windows Explorer in Windows 7 and earlier versions).
To open File Explorer, click the File Explorer icon on the taskbar, or double-click any folder on your desktop. A new File Explorer window will appear. Now you're ready to start working with your files and folders.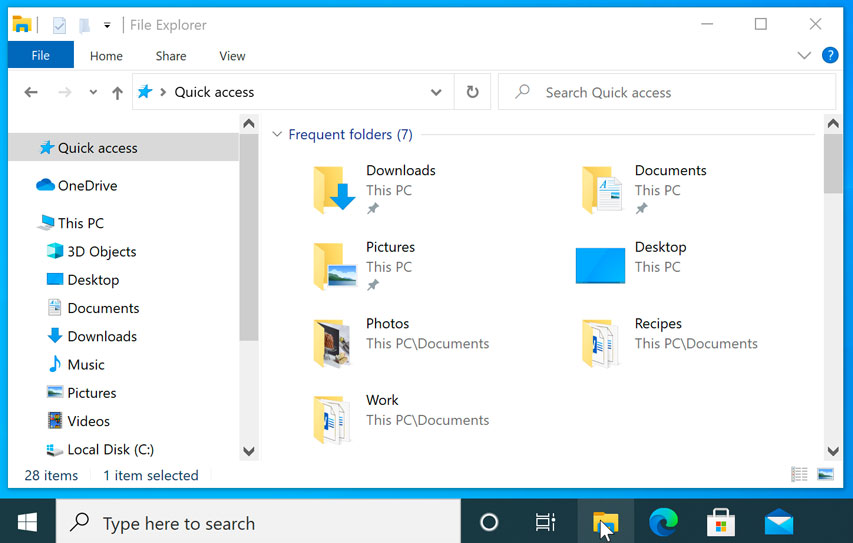 From File Explorer, double-click a folder to open it. You can then see all of the files stored in that folder.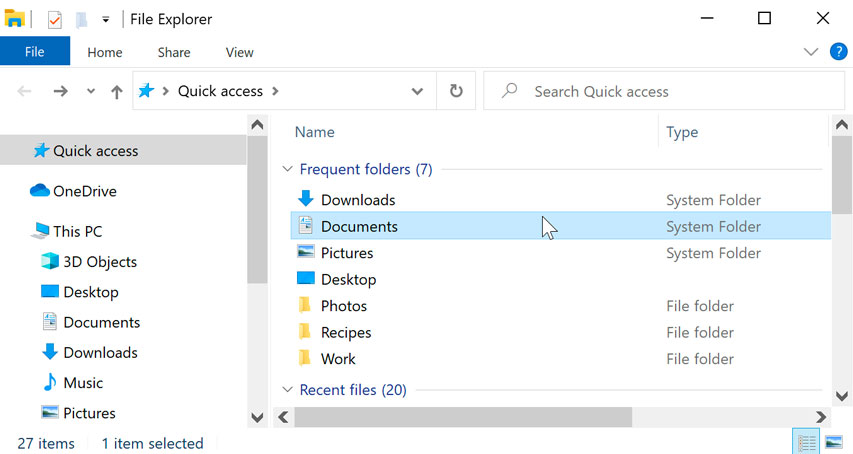 Notice that you can also see the location of a folder in the address bar near the top of the window.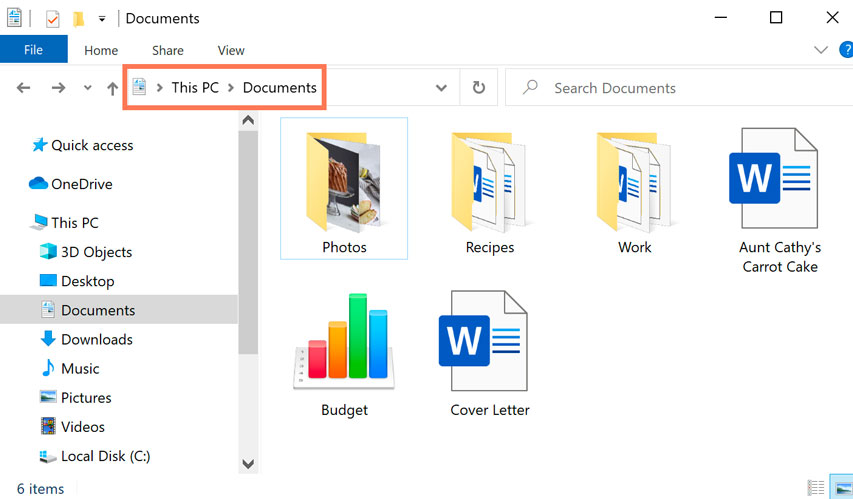 To open a file:
There are two main ways to open a file:
Find the file on your computer and double-click it. This will open the file in its default application. In our example, we'll open a Microsoft Word document (Cover Letter.docx), which will open in Microsoft Word.

Open the application, then use the application to open the file. Once the application is open, you can go to the File menu at the top of the window and select Open.
Moving and deleting files
As you begin using your computer, you will start to collect more and more files, which can make it more difficult to find the files you need. Fortunately, Windows allows you to move files to different folders and delete files you no longer use.
To move a file:
It's easy to move a file from one location to another. For example, you might have a file on the desktop that you want to move to your Documents folder.
Click and drag the file to the desired location.
Release the mouse. The file will appear in the new location. In this example, we have opened the folder to see the file in its new location.
To create a new folder:
Within File Explorer, locate and select the New folder button. You can also right-click where you want the folder to appear, then select New > Folder.
The new folder will appear. Type the desired name for the folder and press Enter. In our example, we'll call it School Documents.
The new folder will be created. You can now move files into this folder.
Let's Practice all the step-by-step computer skills learnt.
References
For additional information and to access more tutorials about Basic Computer Skills, visit GCF Global.